For this edition, I am interrupting my schedule of designer-inspired looks to post a celebrity look to be linked to Two Birds' Inspiration Monday:
Paper, Denim & Cloth jeans - FC ($20)
J. Crew t-shirt - FC ($7)
Vintage sequined cardi - hand-me-down, Aunt Margaret
Pink Studio wedges - FC ($12)
Vintage chain belt - FC ($3.50)
Vintage clutch - thrifted, long ago
Necklace - FC ($3)
Included these close-ups so you could see my accessories and the detail in the cardigan:
I took the inspiration to
add a sequined cardi t
o a casual combination of retro-inspired jeans + white tee from this Ali Larter look posted by
Two Birds
: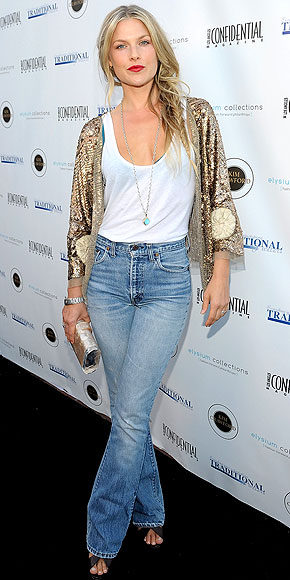 When I first saw the inspiration for
Two Birds' Inspiration Monday
, I just knew I needed to find a sequined cardigan. It has been something that I've seen on a number of bloggers and always loved how it adds some glam to a casual outfit. Here's where the funny story comes in:
I was working at our Monkey Junction location and my friend Camber (remember Camber?) was working at the original location. I scanned the aisles - didn't see anything - so called Cam to see if she had seen any sequined cardis at that (larger) location. She said no, but reminded me that she had bought a pink sequined cardigan from A Second Time Around a couple years ago. Well, my friends, that pink sequined cardigan she bought was something I had consigned of my Great Aunt Margaret's. Cam said she had never even worn it and brought it (back) to me!
Can you believe this cardigan was my great aunt's? And how crazy is it that, of all people, Camber bought it so now it has come back to me!? And, even more unbelievable is the fact that this isn't the first time this has happened! A Fairy Circle consigner brought in a pair of
beaded heels
that she had purchased at A Second Time Around. These beaded heels were my Mom's from the 80s that I had taken to sell at STA (which, unlike us, specializes in vintage) The heels, however, are still available at FC since they're not my size :(
About my outfit:
I already had a pair of high-rise, flare leg,
retro-inspired jeans
and a
white t-shirt
. So when Camber brought me the cardigan my outfit was ready to go. I copied the inspiration photo even more by adding the extra long necklace and throwing my hair in a side braid. I added the wedges for height and carried a clutch for added glam.
I know you all love thrifting, so tell me: